When preparing to put your house on the market, usually your main concern is making your home look as appealing as possible. Cleaning every corner, fixing what needs fixed, and making sure it is a home that others would want to buy. With all that in mind, prioritizing the safety of your home while it is on the market can fall to the wayside until you are fully out of the home. Once you are moved in somewhere new, you may realize that you are worrying quite a bit about just how safe your home is. Between showings and being empty most days, there is a much higher chance that your house can become a target for theft. Here are some ways to protect your home while you wait for it to sell.
TALK TO YOUR NEIGHBORS
While you may think it's obvious that your neighbors know you are selling your home, it may not be their first thought to keep an eye out for strange behavior. If you have a friendly neighbor, ask if they can swing by after showings to make sure your doors are locked and if they can alert you if they see any strange behavior.
PREVENT SLIPS AND FALLS
While theft is always a concern, you also need to keep in mind that you could be held liable for injury on your property. It is a good idea to take preventative measures to keep an unnecessary lawsuit from happening. Make sure you repair any uneven or missing flooring, secure rugs, remove clutter, and clear ice and snow during the cold seasons.
HIDE YOUR VALUABLES
The best way to prevent high-value items from being stolen is to make sure they aren't visible. If you can't take them with you, make sure you have a safe or a secure place to keep them. While jewelry and other expensive collectibles are important, don't forget about anything with important information on it, like Social Security cards, blank checks, medications, etc.
GUN SAFETY
If you are a gun owner, it is imperative that people touring your home cannot access your weapons. If you do not take them with you, make sure they are unloaded and locked away. While theft is a concern, physical damage (or even death) caused by your gun on your property can have serious consequences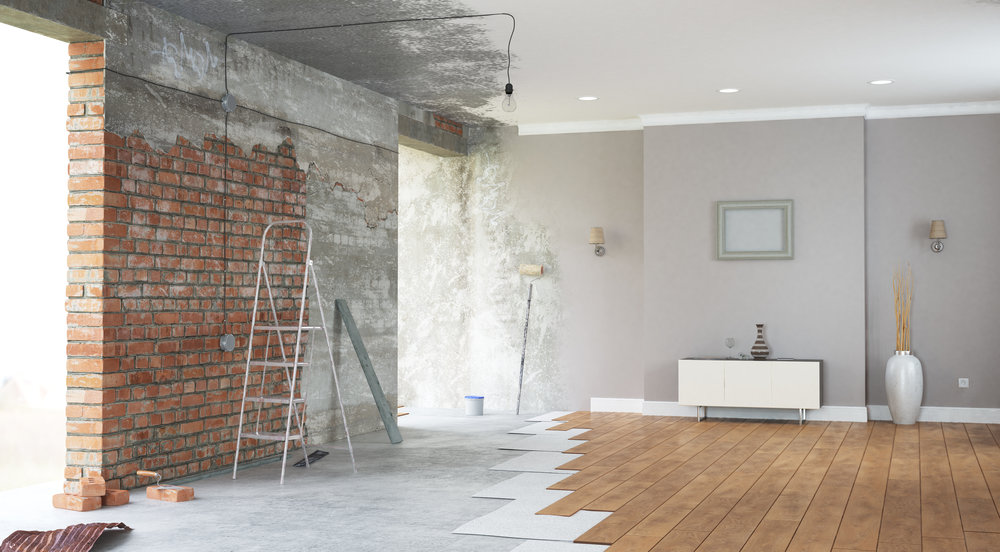 After living in a home for several years, it can be easy to discover things you may not be crazy about. While some things can be a quick fix, there may be major changes that make you wonder if it is worth the investment. At this point, you're probably asking yourself if you should remodel or just find a new home. As you have probably realized, this isn't always an easy choice. There are many factors that go into this decision. Here are some things to consider when deciding what will work best for you.
1. Determine which is more cost-friendly
While both options will have costs, one will have more than the other depending on your situation. Some of
the costs of selling include agent commissions, moving costs, minor repairs, the costs of a new home, and potential upsizing costs. The costs of remodeling can include permits, architectural plans, materials and labor, and any other additional costs incurred in the process. 
2. Look into the current housing market
Depending on whether your local real estate market is hot, it might make more sense to just sell if houses are
selling quickly around you. By talking to a real estate agent, you can find out what to expect in terms of days on market, average sales price, and other important factors when it comes to selling a home.
3. Decide if your roots are deep 
Is your home more than just a home to you? If you and your family are actively involved in the community,
remodeling may work best for you. On the flip side, if there are better schooling or job opportunities in a different neighborhood, or you already spend hours a day traveling to those locations, selling may be a better option.
4. Decide if a renovation can solve your problems
Take the time to decide if the problems with your home are fixable. Is it really the house, or do you dislike
your neighborhood? Do you have to spend an hour driving one way to work? Do you need a lot more space? If your answer to questions like this make you realize renovations won't solve your problems, consider that it may just be time to put your home on the market. 
5. Consider the ROI on your remodel
Calculating your return on investment will help you determine two things – first, if a remodel will cost
you less than selling your home. It will also help you determine if you will be able to make your money back on a remodel if you choose to sell in the future. Look into the Cost v. Value Report for the last year, which can guide you on the most and least cost-effective improvements.  
If these considerations make you realize it is time to sell your home, give me a call today